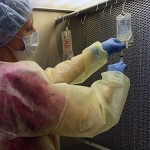 Middle Tennessee Pharmacy Service is a member of the Vital Care Home Infusion Network, serving home patients throughout Middle Tennessee.
Services include:
Total Parental Nutrition
Antibiotics
Pain Management
Inotropic Therapy
Enteral Feedings
IV Immune Globulin
Desferal
Corticosteroids
Remicade
As your community home infusion pharmacy, Middle Tennessee Pharmacy's responsibility is to prepare your medications under sterile conditions in our preparation rooms (also called "clean rooms"), to dispense all of the necessary supplies that you and your nurse will need to give the medication, and to provide professional pharmacy consultation on the use and monitoring of the medication that the doctor has prescribed.
Due to the specialized nature of our services, we may work in conjunction with a Home Health (Nursing) Agency to provide your care. The Home Health Agency's registered nurse is also available on a 24-hour, 7-day per week basis.
To make a referral or request more information about our Home Infusion Services, contact Erica Keele by email or by:
Toll-free: 877.684.9987
Fax: 931. 684.2937